How to Build up A Child's Self-Esteem
As parents, we can be hard on ourselves, but modeling good self-esteem is a key component to build a child's self-esteem.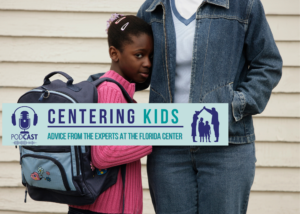 In Season 2, Episode 7 of Centering Kids: Advice from the Experts at The Florida Center for Early Childhood, host Merab Favorite interviews school-based mental health therapist Margaret Ross, who serves elementary-age children at Fruitville Elementary School in Sarasota, Fla. The two women discuss ways parents and early childhood professionals can build up a child's self-esteem so they are able to overcome feelings of anxiety that are often tied to starting a new school or entering a new classroom.
Ross, a licensed mental health counselor, says the biggest thing to remember for self-esteem is not to focus so much on performance or achievement, instead acknowledge the effort.
She also says that building self-esteem can start at an early age. Doing so can improve a child's resilience and help prevent mental health issues later on in life like depression.
Show Notes:
Learn more about Margaret's presentation at our Mind Matters Symposium
Listen to Margaret's previous podcast about Mindfulness.
Support this podcast  The Florida Center for Early Childhood.
CLICK HERE to view a full playlist of episodes.
Have recommendations or ideas for a topic? Please email us at info@thefloridacenter.org!