Canines, Companions and Clinics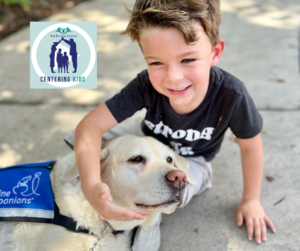 This episode features canines, companions, and clinics and how they benefit individuals living with Fetal Alcohol Spectrum Disorders, or FASD.  There's a lot happening at the only
FASD Clinic in Florida
. It's not just for helping individuals living with FASD find answers and solutions regarding their disorder, but it's also about finding companionship, even in canine form. In season 2, episode 10 of Centering Kids: Advice from the Experts at The Florida Center for Early Childhood, host Merab Favorite interviews Bailey Jackson, a mental health therapist and assistant director of The Florida Center's FASD clinic. She discusses how she and her best friend Poppy help families and individuals living with FASD.
Bailey a brunette, and Poppy, a platinum blond are the best of friends. They live together, work together and even carpool together in the mornings.  They also help children and families together, Bailey Jackson, LMHC, as the assistant director of Florida's only FASD Clinic, and Poppy as a Canine Companion for Independence Facility Dog.
The episode explains how canines, companions, and clinics can be beneficial to individuals living with FASD. Bailey explains how the clinic functions. When evaluating clients, experts at The Florida Center use a comprehensive, interdisciplinary evaluation process developed by the University of Washington FAS Diagnostic and Prevention Network. The process is an all-day event, as each FASD team member individually evaluates the client. After a thorough evaluation, the team convenes and presents their individual findings.
Poppy provides a calming presence during the long day and clients in the clinic find her sniffing, licking, and snoring to be a welcomed interruption to what can seem like a monotonous process.
Click here to download the episode directly.
Show notes:
Dunlap and Moran Attorneys at Law
If you have an idea for a show topic, or would like to offer some advice, contact host Merab Favorite at info@thefloridacenter.org. Our Centering Kids podcast posts regularly on the first of every month.