The Florida Center CDO Joins Leadership Sarasota Class of 2023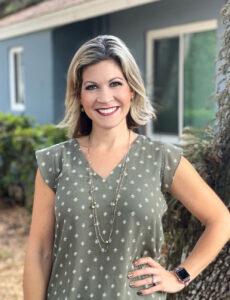 Our CDO joins Leadership Sarasota Class of 2023!
The Florida Center for Early Childhood's Chief Development Officer has been selected to participate in the upcoming 2023 Leadership Sarasota, a program of the Greater Sarasota Chamber of Commerce.
Kristen Theisen, CFRE, is one of 53 participants selected for the immersive opportunity to learn the inner workings of the Sarasota community. Each applicant goes through a rigorous application and interview process with members of the Leadership Counsel, all former Leadership Sarasota graduates, reviewing their expertise.
With more than 15 years of professional experience, Kristen is well-versed in the art of weaving together public relations, marketing, and fundraising. Her time in the private sector working for a global communications firm, a family entertainment company, and a public media outlet provided a strong foundation of transferable skills she now uses to further philanthropy at The Florida Center.
Originally from a suburb of Cleveland, Ohio, Kristen is a graduate of Saint Mary's College in Notre Dame, Ind. with a degree in communications. She began her career in Chicago, Ill., and later relocated to Southwest Fla. She obtained her CFRE (Certified Fundraising Executive) credential in 2014.
Since 2007, Kristen has worked in the nonprofit world, connecting donors with worthy causes. She has led fundraising through annual campaigns, donor relations, special events, planned giving, and grant requests. Her efforts with charitable organizations helped them to attain regional awards from the Tampa Bay Business Journal, WEDU public television, and the American Advertising Federation Suncoast Chapter, among others.
The Leadership Sarasota program is designed to enhance the participants' awareness of the community and its needs by examining how leadership in the historical, geographical, educational, economic, governmental, and cultural segments work together to perpetuate and advance the Sarasota County community.  Each class adopts a project which is a lasting tribute to their class.
Please join us in congratulating Kristen and the other members of the Leadership Sarasota Class of 2023!