CWC: What are Social-Emotional Consultants, Anyway?
In this episode of Coffee with the Consultants, mental health therapists Stephanie and Michele discuss "what's a social-emotional consultant, anyway?" by explaining how they are able to build resilience in young children through attachment, intuition, and self-regulation while working inside a preschool.
Stephanie and Michele serve as full-time Social-Emotional Consultants at The Florida Center's Starfish Academy preschools. Stephanie is based at the Sarasota location, while Michele serves students at the North Port campus. The model is the first of its kind in Sarasota County and funded in part by The Charles and Margery Barancik Foundation.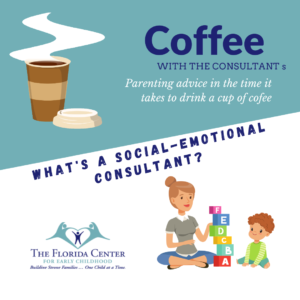 The Social-Emotional Consultants help the children form good relationships with their teachers and peers. At times they work with children in an inclusion classroom where typically developing children learn alongside those with special needs. They help all the children handle "big feelings" like frustration, fear, and disappointment. They also provide one-on-one sessions and small breakout group gatherings where they work on other social-emotional development, like conversational etiquette, eye contact, and active listening.
When a child's "big feelings" start to disturb learning in the classroom, Stephanie and Michele have the ability to remove them from the classroom and take them to a "calming room" where they can express their feelings through books and other activities. When the episode is over, they can return to the classroom refreshed and ready to learn.
Stephanie and Michele also provide consultations to parents as well as parenting classes known as "parent café" for the parents of Starfish students. During these classes, parents can ask questions about a specific early childhood topic.
Visit The Florida Center's YouTube channel and hit the subscribe button to be alerted when a new episode is posted. Like our videos and comment on your favorite. If you would like Stephanie and Michele to cover a specific topic, email them at info@thefloridacenter.org