Honor Dr. Goldstein
Dr. Norman Goldstein had a unique understanding of child development.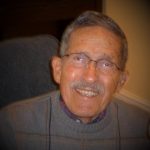 As a pediatrician in Sarasota, he realized that early identification and treatment of developmental delays or disabilities was critical for a child's success. He also knew that the journey needed to include the entire family. The Child Development Center was born of his vision to serve the specific needs of young children, and 40 years later, The Florida Center for Early Childhood is continuing to meet those needs.
Did "Dr. G" impact you, your children, or your family in some way? Have you seen or experienced the benefits of specialized, therapeutic services for young children at The Florida Center or with another provider? If so, please join us in honoring Dr. G's memory with a gift that will help his legacy live on.
Donate in honor of Dr. Goldstein
Join the Goldstein Legacy Society
Dr. Goldstein was instrumental in so many local organizations, expanding our community's ability to improve the lives of children and families. He inspired generations to practice medicine or specialize in early childhood therapies, including his own children and grandchildren. Though he is no longer physically with us, his vision, passion, and dedication to the needs of children continues to impact lives in so many ways.