It 'Takes a Village' to Prevent Child Abuse
By Debbie Keyso, Vice President of Healthy Families Services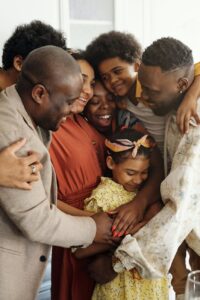 April is Child Abuse Prevention Month.  I wish that wasn't a thing.  It's hard to wrap your head around the fact that innocent, vulnerable children could be physically abused, sexually abused or neglected.
Nationally, an average of five children per day, die as a result of abuse. That's five too many, but it's just a fraction of the number that are victims who live to carry that trauma for the rest of their lives.
In a typical month in Florida, there are approximately 15,000 reports of abuse or neglect made to the state's child abuse hotline.  Sadly, the United States has one of the worst records among industrialized nations.  Child abuse crosses all races and socioeconomic levels, but is most prevalent in children birth to five years of age.  So, who are the perpetrators, and why does this continue to be such a huge problem?
The truth is that most parents do not intentionally harm or neglect their children (this, of course, does not apply to sexual abuse).  The roots of child abuse are complex: many parents were themselves the victims of abuse, or are struggling with addiction or mental health issues.
A new mom or dad who grew up in a home where violence was the norm is ill-equipped to deal with a child with behavior issues.  A mom struggling with post-partum depression may have a difficult time bonding with her baby in the very critical first months of life.  A dad who has not learned how to deal with anger in healthy ways may snap and violently shake his colicky infant.  All new parents, but especially those with a history of childhood trauma or current stressors, can benefit from extra support during their child's first few years.
The good news is that there are many resources for new parents, including home visiting programs, parenting classes, mommy and me groups, and dad boot camps.  We need to ensure that new parents have access to these resources, and more importantly, normalize the need for support.  The saying that "it takes a village to raise a child" has never been more fitting given the unprecedented times we are living in.
We have work to do in order to reduce child abuse.
Everyone has a part. We can all offer help to a neighbor who might be having a hard time running errands. We can learn the signs of abuse and neglect and report them if we see them. We can encourage or support local schools or community organizations that offer free parenting education – like The Florida Center's Healthy Families program.
For now, I will wear blue to show my support of Child Abuse Prevention, plant a pinwheel garden, and dream of the day when every child has a great childhood.