The Wilson-Wood Foundation Supports Multi-Generational Program
Contact Marketing and Communications Director Merab Favorite for information.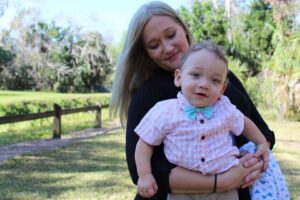 The Florida Center for Early Childhood recently received a grant of $10,000 from the Wilson-Wood Foundation for the Early Childhood Court (ECC) multi-generational program in Sarasota County. This contribution will enhance mental health therapies and support vulnerable families, impacting both young children and their parents. This grant is characteristic of the local foundation, which strives to achieve multi-generational impact with its investments in community organizations like The Florida Center.
"We want to make as much of an impact in the community as possible," said Susan Wood, executive director of the Wilson-Wood Foundation. "In our support of the life-changing work of The Florida Center and other local agencies, we are honoring my late father's vision for the Wilson Wood Foundation when he co-founded it in 1981."
The Wilson-Wood Foundation and The Florida Center have a long history of partnering together to improve the lives of young children, their families, and the community at large. Over the past 20 years, thousands of at-risk individuals have benefited from projects including comprehensive developmental therapies for children with disabilities, multi-generational mental health counseling, Fetal Alcohol Spectrum Disorders (FASD) evaluation and prevention, and training for area child care providers. The most recent grant will support the Early Childhood Court program, which is designed especially for young children in foster care, who are particularly vulnerable to trauma during their specific stage of development. Funds from the Wilson-Wood Foundation will help change negative outcomes associated with being placed in the welfare system by expediting the court process and facilitating lasting relationships between the child and their caregiver.
"The first 1,000 days of a child's life play a critical role in their development," said Dr. Kristie Skoglund, CEO. "The Wilson-Wood Foundation's grant for this program can change the trajectory of a child's life by helping them obtain a permanent home and form an emotional attachment with at least one adult who will nurture their healthy development."
Families enrolled in the voluntary program work with a specialized team of early childhood professionals who help them break unhealthy intergenerational cycles through mental health therapy, parenting education, and support. The Florida Center manages the program locally in conjunction with the Safe Children's Coalition and the 12th Judicial Court of Florida. For more information, visit www.thefloridacenter.org.