34th Annual Winter Gala: Lighting The Way
We are pleased to report that our 34th Annual Winter Gala: Lighting the Way was a huge success! Thanks to our supporters, we raised enough to fund a full year of early education and developmental services for 20 local children in need.
However, we could still use your help! A generous donor has announced a match of up to $100,000 to create an even bigger impact for children and families. With just $30,000 left to meet this match, please consider donating so YOUR gift can go further.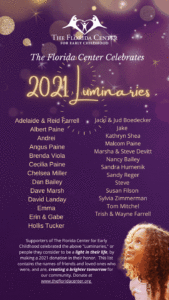 Our 34th Annual Winter gala took place on Friday, Dec. 3 at Michael's On East. It was our most successful event to date, featuring purple lights illuminating champagne and lavender linens decorating the tables with floating candles. Decorative birch trees displayed "luminary ornaments," each featuring the name of someone who had been a light in the life of a donor.
After a gourmet meal, auctioneer Jason Alpert energized the room with our most lucrative live auction ever. Featured items included a sculpture of John Lennon by artist Jack Dowd, a Key West vacation, and a collectible 1982 Chateau Lafite Rothschild wine. Afterward, inspiring words by CEO Dr. Kristie Skoglund and our "Oliver's Story" video inspired attendees to bid from their hearts. The evening culminated in a dance party thanks to the Tampa-based band Ovation, which really brought down the house.
If you were unable to attend, please check out this photo album of the event.
Every year, The Florida Center hosts this event to help one in every six children that struggle with a developmental delay or disability. Children like Oliver, below, need extra specialized services to ensure they meet developmental milestones. Oliver's rare birth condition and ADHD were inhibiting his independence and self-esteem. After being "asked to leave" four area preschools, he received early intervention, wrap-around services, and a personalized treatment plan at The Florida Center's Starfish Academy that encouraged him to overcome challenges and reach his full potential! Watch his video below.
To learn even more about the event, check out this amazing Sarasota Herald-Tribune article which highlighted many exciting details about the event.
More photos were exhibited in this slideshow on the Observer Media Group website.
Thank you to our sponsors: