Programs Receive National Accreditation
SARASOTA – Two of the Florida Center for Early Childhood's programs received national accreditation through the New York-based Council on Accreditation (COA,) and earned high marks during the process.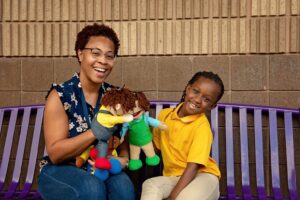 The Florida Center's robust Mental Health Therapy program along with its Early Childhood Court program for the 12th Judicial Circuit, were both awarded national accreditation after an extensive application and site review process.
"This is how proud parents must feel when their child graduates as valedictorian," said Eddie Pérez-Ruberté, Vice-Chair of The Florida Center's Board of Directors. "I have had many proud moments over the years being involved with The Florida Center and this is definitively high up there."
COA accreditation is an objective, independent, and reliable validation of an agency's performance conducted by a group of specially trained volunteer 'Peer Reviewers' who organize an administrative analysis and a series of on-site interviews with trustees, staff, and clients.
Organizations pursue accreditation to demonstrate the implementation of best-practice standards in the field of human services. COA evaluated all aspects of The Florida Center's programs, including services, management, and administration.
The agency's early education program received national accreditation was awarded in 2000.
"This was a long process and I'm certainly grateful for our amazing board and staff for taking this on," said Kristie Skoglund, CEO. "This accreditation reinforces the value of our services in helping local children and families in need."
About Our Programs:
The Florida Center supports the healthy development of young children especially those with delays and disabilities. It provides clinical mental health counseling for local families and school-based therapy to students in every Sarasota County elementary school. The Early Childhood Court program is managed in conjunction with the YMCA Safe Child Coalition to provide a therapeutic alternative court model designed around the needs of young children under the age of three.
About the Council on Accreditation:
For over forty years, the Council on Accreditation has conducted rigorous, in-depth accreditations of more than 1600 organizations providing child welfare, behavioral health, and community-based social and human services throughout the United States and Canada.