Building in Tandem Event Bridged Generations
A recent Building In Tandem Event at The Florida Center's Sarasota campus bridged generations, both figuratively and literally.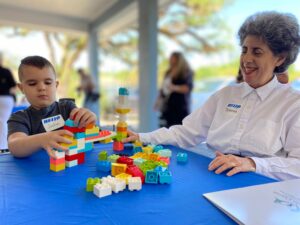 Justin, a 5-year-old with exceptionalities, had his best day ever. At least, that's what he told his therapist about participating in the Building in Tandem Event that was hosted by The Florida Center for Early Childhood on April 8.
The Florida Center partnered with Aviva Senior Living for a multigenerational LEGO™ competition. The teams were composed of one preschool student from The Florida Center's early learning education program, Starfish Academy, and one elder from Aviva. Each pair was challenged to build a bridge – both figuratively and literally.
Inspired by the upcoming 2022 Giving Challenge, The Florida Center and Aviva embarked on this partnership to demonstrate that one person can be the one to make a difference in the life of another. For elders, social interaction with children can alleviate the void of distant grandchildren, reduce loneliness and isolation, and decrease the likelihood of depression. Preschoolers can learn new skills from their elder partners and gain social-emotional growth that will help in school and beyond.
"I felt like I got more out of this interaction than the children," said "Nana" Joan Solorow, an elder who participated in the competition.
Tandem Construction, with its office located near both organizations, sponsored the competition.
"At Tandem, we are all about building up the community around us," said Kent Hayes, Director of Client Services for Tandem. "This competition is a great way to share the mission and vision of the Florida Center and Aviva Senior Living, and the incredible services that they provide to our community.  At the end of the day, we all walked away feeling like we won!"
Hayes participated as a judge along with David Resendez, Maintenance and Facilities Manager for The Florida Center, and Adam Talaat, of Aviva.
The Aviva residents that participated in the activity included Abby Sherry, Deborah Bortnick, Julie Atlas, Solorow and Sidney Millstone. Starfish Preschool students included Angel, 4, Amelia, 5, Kai, 5, Justin, 5, and Xavier, 4.
"We are so excited to be partnering with The Florida Center," said Jay Solomon, CEO of Aviva Senior Living. "Children just light up the lives of our elders and the expressions on their faces while they interacted with each other showed that!"
Each child received a toy tool belt, provided by Aviva, as a prize to go along with the theme. Tandem provided goody bags to everyone who participated. Overall, our Building in Tandem Event bridged generations and brought joy to all participants.
The Florida Center and Aviva hope to continue their partnership long after the event concludes as it will be beneficial to both age groups. Future activities could include gardening, painting, drawing or reading.  If you'd like to donate to this partnership, please consider selecting The Florida Center and Aviva Senior Living as your benefiting charities in the upcoming Giving Challenge, which is hosted by the Community Foundation of Sarasota County, from noon on Tues. April 26 to noon on Wed., April 27. All donations up to $100 will be matched 1:1 by the Patterson Foundation. For more information, visit www.givingchallege.org. If you'd like to get involved, email info@thefloridacenter.org
About The Florida Center for Early Childhood
For more than 40 years, The Florida Center for Early Childhood has been the leading provider of therapeutic services, early education, and healthy development for young children in southwest Florida, offering a seamless delivery of services for the whole child and their family. Today, the agency is nationally recognized for its early childhood expertise in a variety of specialties. The Florida Center provides developmental therapies, mental health counseling, Starfish Academy preschool, the Healthy Families home-visiting program, and the state's only Fetal Alcohol Spectrum Disorders clinic. For more information, visit www.thefloridacenter.org or call 941-371-8820.
About Aviva Senior Living
Aviva Senior Living, is Sarasota's only single-site, not-for-profit rental community offering a full continuum of care. Our residents do more than call our community home. They live here, with purpose and meaning at every turn, curating a thriving arts and cultural scene; embracing the beauty of Sarasota and our 27-acre campus; and surrounded by skilled healthcare if and when they need it. Our loving and tight-knit family community provides peace of mind from the very top, with every level of management located on-site.
About Tandem Construction
For 42 Years Tandem Construction has been a leading provider of Construction Management and Design-Build services in Southwest Florida. Owned and operated by Peter Hayes and Brian Leaver, the company is built on a foundation of service and professionalism. Today, Tandem continues to deliver the construction of local schools, community facilities, non-profits, government buildings, sports facilities, and other major commercial projects in the region. As a new neighbor to the Florida Center for Early Childhood Development, Tandem will be managing the redevelopment of 17th Street Park, which will result in a new, regional multi-sports tournament complex for Sarasota County Government.