Modeling Mental Health Awareness
Did you know that modeling mental health awareness can help your child develop social-emotionally skills?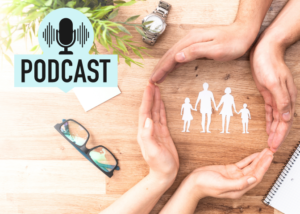 In Season 2, Episode 5 of Centering Kids: Advice from the Experts at The Florida Center for Early Childhood, host Kristen Thiesen interviews children's mental health counselor Michele Duss, who works with preschool-age kids. In honor of Mental Health Awareness Month and Children's Mental Health Week, the two discuss ways parents can model positive approaches to mental health, recognize signs of trauma and be there for their children in their time of need.
Michele, who is a parent of two, says that parents should be modeling mental health awareness in their own behavior.
"Engaging in healthy conversations and healthy relationships, and letting our children know that having feelings are okay and that parents experience them as well," Michele said.
She also said that when feeling upset, parents should use strategies that are often taught in the classroom, like stepping out on the porch, taking a deep breath, and collecting their composure before coming back inside.
Another tip that helps when children are exhibiting behaviors like tantrums or crying is to "be with" the child instead of sending them to their room. Michele recommends acknowledging the child's feelings, explaining why their reaction is frowned upon, and providing an alternative reaction for next time.
To listen to more Centering Kids podcasts, visit our playlist.