Therapists Set Up 'Zen Den' to Help Teachers Relax
School-based mental health therapists at Wilkinson Elementary in Sarasota set up 'Zen Den' to help teachers relax after a busy work day.
The Florida Center for Early Childhood's school-based mental health therapy team at Wilkinson Elementary School was tasked with setting up a special space for teachers and school staff to help them decompress after a busy day. With the help of a sponsorship from Bayside Community Church and a grant from the Education Foundation of Sarasota County, they installed mood lighting, calming music, mindfulness activities, and even massage chairs in a new 'Zen Den' at the school.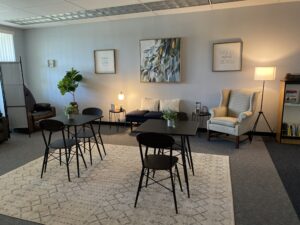 "This is really about taking some minutes to be by yourself, to be mindful to be centered, and to be relaxed," said Sara King, a licensed mental health therapist who serves children and families at Wilkinson Elementary."
There's coffee, tea, and light snacks set up for teachers and there are also books for them to reflect on giving teachers a great start to the new year.
"It gives them a space to go and just breath for a few minutes, let go, have a quiet moment and treat themselves to something special," said School Principal Susan Nations. "It then allows them to go back to the classroom and really focus on their children with renewed energy."
The endeavor was covered by Fox 13 News and aired on the 5'0clock nightly news on Friday, August 5, 2022. You can watch the clip below.
The Florida Center hopes to set up an additional 'Zen Den' to Help Teachers Relax within the next few months. The agency hopes the project will eventually extend to the 25 other schools it serves in the county.  If you are interested in contributing to a Zen Den at another local school? Contact Merab Favorite at (941)371-8820 x 1025.