A Day in the Life of a Family Support Worker
By Merab-Michal Favorite, Marketing and Development Manager 
Meagan pulls her minivan up to a small white house with peeling paint and a dilapidated car parked outside. She heaves a box of canned goods onto her hip and takes them inside. Her client is seated in the shade of the carport; 16-year-old Jenny cradles her newborn son in the crook of her arm and quietly feeds him a bottle.
Meagan takes a seat next to Jenny and asks her how she's dealing with motherhood. She reaches over and corrects the position of the baby's bottle, explaining how air bubbles can make the baby gassy. Meagan expresses concern when Jenny says the baby isn't sleeping in his bassinet and asks to see where and how he sleeps. Satisfied with the arrangement, she moves on to other topics.
Over the next hour, the two discuss inherently important issues – safe sleep, birth control, cleanliness, postnatal care and feeding schedules – within a casual conversation that seems to be as easy as the summer breeze.
Jenny is part of the Healthy Families, a nationally accredited home visiting program for expectant parents and parents of newborns. Through the program, Jenny was assigned a Family Support Worker, Meagan, to set up an individualized care plan for her and her new baby.
Meagan is helping Jenny enroll in high-school, since she hasn't been back in school since sixth grade. With the help of a social worker, Meagan advocated for Jenny to enter teen parent program where on-site childcare is provided at no additional charge. Meagan makes sure Jenny has a plan to get to school on the first day, should the enrollment go through. She turns to leave but stops short to ask Jenny if she needs anything
"I need a bottle brush," Jenny says.
Meagan nods and promises to bring one to her on her next visit.
Meagan's next stop is across town. It's a family that's vastly different from her first – a mom of four with a college education who recently became a registered nurse.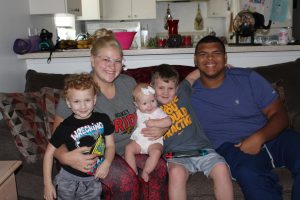 Shannon found Healthy Families by accident, thinking she was calling Healthy Start. She signed up for services anyway, because, as she put it, "who wants to parent alone?"
As soon as she walks in the room, Meagan knows Shannon has news – she's beaming.
"I officially accepted a job offer as an R.N.!" Shannon gushes. "It's part-time so I can look after the kids and work too."
Meagan congratulates Shannon then moves on to the topic of the day – safety.  All four kids are present in the room. There's the 4-month-old baby girl and three other boys, two in grade school and a teenager.
Shannon, being a nurse, is pretty familiar with baby safety, but her sons show interest in the household safety literature Meagan has brought along. She quizzes them about safety and discusses best practices for their new baby sister.
The need for services is not immediately evident in this household, however family history and past trauma were factors during the qualifying process. Through Meagan and Healthy Families, Shannon and her family have been introduced to other services, like family mental health counselling and developmental therapies for the young boys.
After their session, Meagan packs up and leaves. Her end-of-day appointment canceled via text so she heads back to the office, eager to tell her supervisor of the progress her clients have made.  It's easy to see she loves her job for which 'Family Miracle Worker' might be a more appropriate title.
Healthy Families helps parents learn to recognize and respond to their babies' changing developmental needs, use positive discipline techniques, cope with the day-to-day stress of parenting in healthy ways, and set and achieve short and long-term goals. The program improves childhood outcomes and equips parents with the knowledge and skills they need to create safe, stable and nurturing home environments.