Managing Meltdowns with Mindfulness During Covid-19
By Monica Mehserle, School-Based Therapist at Lamarque Elementary School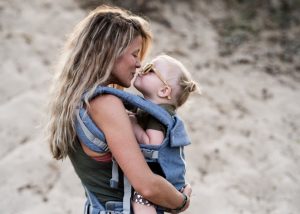 We went from doing it all – dropping our kids off at school and picking them up from practice – to being "sheltered in place." And the business that went on outside the home two months ago, is now taking place in the home by navigating how to work remotely and acting as the parent, teacher, and coach. Parents, you are juggling a lot without any pause!
What about just "being?" When was the last time you felt yourself in the present moment, delighting in your son or daughter? The last time your child had some big feelings and you were able to comfort them through? Your most content moments are most likely moments of just "being," not moments where you're "doing," or crossing things off your to-do list and rushing from one place or task to the next. This is a skill of mindfulness and not only benefits you, but greatly benefits your children as well. When you are able to "be with" the moment and with your children, you communicate to them that you are emotionally available to them. When you open yourself up to their feelings, you can "be with" the feeling they bring to you, whether it's something they're excited to share with you or a total meltdown.
Speaking of meltdowns, I like to think what they're really trying to say is "I need your help, I can't manage all of these feelings I have on my own. Will you "be with" me in this time and help me sort it all out?" As difficult as it may be to hold them when they are having a tantrum, it may be a quicker way to get them to a more balanced place rather than sending them to their room or putting them in time out. The trick for us as parents is to be able to "be with" and tolerate all the discomfort their tantrum or defiance brings up within us.
If our children know you can "be with" their feelings, they will get through those big feelings more quickly, and will come to you when they need support rather than trying to deal with it on their own– that might come in handy when they're a teenager!
About Our School-Based Therapy Program:
In partnership with the School District of Sarasota County and the Community Foundation of Sarasota County, the Florida Center provides mental health counseling services to students in 18 Sarasota County elementary schools. The services are now functioning virtually as part of a statewide quarantine.  For more information, visit www.thefloridacenter.org