The ABCs of Social-Emotional Development
by Guest Columnist Sandy Chase
The Florida Center for Early Childhood helps bolster healthy development of infants six weeks old through eight years old.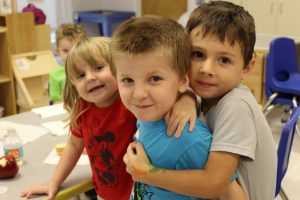 The Center's success is based on the ABCs:
Accredited inclusion preschool called Starfish Academy focuses on academics AND social-emotional learning.
Broad range of activities promoting growth and development in language, cognition, motor skills, and social skills.
Collaborative team effort of parents, educators, and therapists.
Starfish Academy Helps Children Face Social-Emotional Challenges by employing a full-time social emotional consultant at both its North Port and Sarasota campuses.
"We help children identify and understand their own emotions and the emotions of others," said Stephanie Essex, Sarasota's social emotional consultant. "We teach skills that will help strengthen protective factors, including initiative, self-control, and attachment. When we improve protective factors, we increase assertiveness, mindfulness, and the ability to build trusting relationships."
Stephanie says, "We work with all the kids on mindfulness, teaching them pro-social skills.  The kids learns to take turns, be empathetic, problem-solve, and share by using creative games, activities, and social stories that encourage engagement and motivation.
 Noticing Behaviors and Identifying Feelings Help Bolster Children's Social-Emotional Development
Stephanie stresses that parents should be aware of externalizing and internalizing behaviors. Externalizing behaviors can be hitting, screaming, crying, whereas internalizing behaviors can be isolating, not speaking, and/or refusing to engage in activities.
Feelings are often the source of behaviors and helping children identify and talk about feelings can help reduce behaviors.  Trauma, abuse and neglect, developmental difficulties, or a lack of connection are some of the things that trigger feelings and start behaviors.
Stephanie says, "The best thing that parents can do for their children is to be a calm and supportive. It's important to notice behaviors, help your child identify how they're feeling, and encourage the child find healthy ways of dealing with those feelings."
 Parents Are Partners in Fostering Social-Emotional Development
Although teachers, mental-health professionals, and other staff address potential development issues as early as possible, parental involvement is paramount.
Parents can participate in Starfish Academy and/or consult with Stephanie individually:
During evening classes,  parents can explore such topics as helping your child deal with anger, parenting stress, positive discipline, understanding emotions, and mother-father collaboration.
One-on-one sessions with Stephanie can provide a more detailed and personalized look into student development and offer recommended at-home strategies to help students reach their full potential.
"As one of the academy's social-emotional consultants, I love addressing parental concerns, providing resources, and/or advocating for anyone struggling to get access to community services," said Stephanie.
The Future Is Now
 All children need parental support as early as possible.  Being loved, feeling safe, having confidence, being able to problem-solve, and trusting others are supreme.
Parent-child quality time is vital:
Engage with your child. Playing helps children develop because they're better able to express themselves and work through problems.
Model and scaffold (building on existing skills) so children can learn initiative, self-control, and how to build positive relationships.
Parents rely on Starfish Academy.  But, in order for their children to reach their development potential, they must always remember their ABCs:  Always Be Cognizant of your child's behavior.