Centering Kids: Our Disabilities Don't Define Us
In this Season 1, Episode 10 of Centering Kids: Our Disabilities Don't Define Us, host Kristen Theisen kicks off Fetal Alchohol Spectrum Disorder (FASD) awareness month by interviewing author and FASD activist Lucas Boyce.
Boyce, who now serves as the Assistant to the County Administrator of Orange County, one of the largest counties in Florida, discusses growing up in foster care, overcoming countless obstacles including early childhood in foster care, living with FASD, and navigating the world as a black man. In addition, Boyce discusses how he managed to accomplish his childhood dream of flying on Airforce One and working for the National Basketball Association (NBA).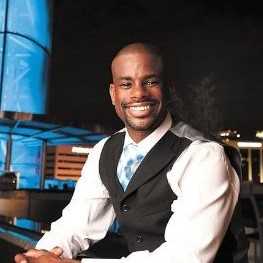 In the podcast, Boyce references stories in his book, Living Proof: From Foster Care to the Whitehouse and NBA, about how his life and experience living with FASD.
He describes his relationship with his birth mother, a teen mom who consumed drugs and alcohol before knowing she was pregnant at three months. Boyce was born premature and spent many days in the Newborn Intensive Care Unit (NICU). His mother then placed him in foster care where he remained for the first three years of his life.
Boyce was adopted by his foster mom and lived in a large family with 13 children. When he was 18 years old, she asked him what he wanted to do with his life. He told her his dream of working in the White House and NBA.
"Our disabilities don't define us," she told him. "You can do anything you want to do."
Boyce took the advice to heart and achieved his dream. He developed lasting opportunities along the way, including an unexpected friendship with President George W. Bush.
Today, Boyce does is an activist for FASD, and promotes the FASD Respect Act, inclusion and acceptance in order to bring awareness to the invisible disease that affects 1 in 20 children.
The Florida Center for Early Childhood operates the only FASD clinic in the state of Florida and is working with Boyce and others to help spread awareness across the state and offer services to those affected.
Click here to listen ot Season 1: Episode 9 of Centering Kids, Navigatiing New Beginnings.
Click here for our entire first season of podcasts.