How to Navigate Your Child's IEP
When it comes to how to navigate your child's IEP, or Individualized Education Plan, parents can sometimes feel confused, powerless, or simply overwhelmed which can make their participation in the process less meaningful. In this episode of Centering Kids, host Merab Favorite interviews parent advocate Jen Werden about her new YouTube series, Different Children, Different Approach. Jen teams up with Amy Weinberger of The Lean on Me Project in the series, set to premiere March 1, 2023, to give parents much-needed tools to successfully navigate their child's IEP.
The whole part of an IEP meeting is that we're coming together as a team to talk about some of the challenges that our student is having and it's almost impossible to take the mom hat off and only be advocating for the needs of our student. That's one of the things that our series is going to be able to help other families with.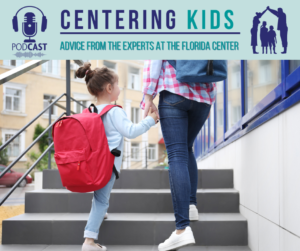 Jen and Amy have had a private group of FASD families that they have been helping navigate IEPs and specialized education and they wanted to share that advocacy with a broader audience. The Different Children, Different Approach series will give caregivers helpful information and tips for communicating with the school system and advocating for your student's needs. Topics will cover many different aspects of special education and the services your child may need to help them be successful in school.
Click here to download the episode directly.
Show notes:
For more information on The Lean On Me Project, click here.
To learn more about Jen Werden and view her full bio, click here.
To subscribe and follow The Florida Center's YouTube page, which will host the new series, Different Children, Different Approach, click here.
If you have an idea for a show topic, or would like to offer some advice, contact host Merab Favorite at info@thefloridacenter.org. Our Centering Kids podcast posts regularly on the first of every month.