The Therapeutic Benefits of Outdoor Recreation
By Jill Collum, School-Based Mental Health Therapist at Tuttle Elementary School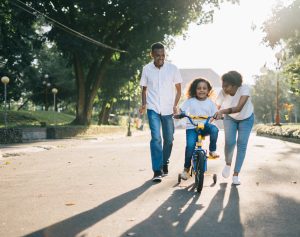 July 5-11 is National Therapeutic Recreation Week, but due to the recent uptick in positive Covid-19 cases, many families have reverted to staying home in order to stay safe. However, self-isolation can sometimes cause an increase in sad feelings. Doctors and therapists attribute this to less exposure to sunlight, as well as reduced access to fresh air.
Self-isolation doesn't have to mean staying inside and binging Netflix series from the couch. Time spent outside, particularly in "green" or natural areas, has huge benefits for mental health, especially in children. Nature allows kids to learn, exercise, experience new things, and it also gives them access to that sunshine and fresh air so crucial for growth and mental well-being. This time of year is possibly the most important time to get kids out of their indoor routines, since kids need something different and exciting to motivate them while they're home from school.
Below are some beautiful, natural, outdoor resources that are free or very affordable and accessible to everyone in Sarasota County. Visiting these parks is great way to get outside while practicing responsible social distancing.
Turtle Beach—8918 Midnight Pass Road, South end of Siesta Key—Free—This beachfront park is surrounded by leafy goodness and boasts a brand new playground made from recycled materials
Myakka State Park—13208 State Road 72—$4 for a single occupant vehicle, $6 for 2 to 8 passengers—We have a fabulous State Park right in our back yard! The river and trails are perfect to explore and the part boasts wildlife tours and raised canopy walkway
Celery Fields—6893 Palmer Boulevard—Free—Preserved wetland with beautiful trails, amazing birds, and an observation mound that is fun to climb and presents a gorgeous view of the region
Bayfront Park—5 Bayfront Drive, next to Marina Jacks—Free—Right next to downtown, this lovely area includes a playground, walking trails, green space for lounging or playing games, and endless people watching
Payne Park—2010 Adams Lane—Free—Another park in the heart of downtown, this former baseball field has lakes, trails, a skate park, frisbee golf course and a café
Use the diagram below to ensure safe social distancing while enjoying parks. Have fun and remember to wear sunscreen, bug spray and drink plenty of water if you plan to explore the outdoors during this time of year!