Is it Baby Blues or Postpartum Depression?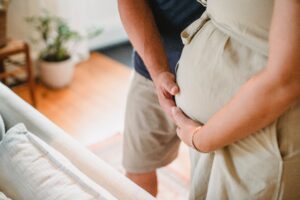 Is it Baby Blues or Postpartum Depression? One in 7 mothers and 1 in 10 fathers experience peripartum depression, also known as postpartum depression, a mood disorder that can occur during pregnancy or after the baby is born. However, only about 50 percent ever receive treatment.
In Season 2 Episode 1 of Centering Kids: Advice from the Experts at The Florida Center for Early Childhood, host Kristen Theisen consults with mental health therapist Jeanie DeLa about signs, symptoms, and treatment for peripartum depression. DeLa, a mental health therapist who works with The Florida Center's Healthy Families program, discusses her own experience as a new mom and explains the difference between baby blues and more serious mood disorders.
She also offers hope, support, and suggestions for expecting moms and dads.
"All I ever wanted was to have a baby," said DeLa. "Then I had a baby and all I could think was, 'what was I thinking? The beauty in that is that I had a support system where it was safe to say that."
The Florida Center's Healthy Families program offers new and expecting parents the support they need to establish self-sufficiency and raise healthy children. The nationally recognized program provided services to nearly 650 families in Sarasota, Charlotte, DeSoto, and Hardee counties, conducting more than 9,000 home visits over the course of a year (2020 – 2021).
Show Notes:
Jeanie recommended the website Postpartum Support International or PSI for updated information about pregnancy-related mood disorders.
To register for Jeanie's training on Peripartum Depression on Friday, February 24, 2023, click here.
Support the show (https://centeringkids.buzzsprout.com/)