The Emotional Impact of a Child's Diagnosis
The emotional impact of a child's diagnosis can affect the entire family. In Season 2, Episode 9 of Centering Kids: Advice from the Experts at The Florida Center for Early Childhood, host Merab Favorite interviews Gigi Gillis and Kaitlyn Aland, two parents who are raising children with exceptionalities. The moms explain their emotional journey after receiving the news that their children have life-long disabilities.  Tamra Cajo, a licensed mental health counselor and director of The Florida Center's Fetal Alcohol Spectrum Disorders clinic also provides insight into the many emotions parents feel after receiving their child's diagnosis.
Gigi and her husband Justin struggled to have children. After undergoing in vitro fertilization, they finally had their miracle baby. But when he didn't make eye contact with them or start talking like other children his age, they began to worry. When a group of doctors told Gigi her son was living with autism, she cried for hours.
"I cried feeling that I had done something wrong. I cried thinking my dreams for my son were gone and, why him? And then I looked at my perfect kid, I wiped my tears, and I started a plan to give him the best early intervention for him to be his best self. I actually realized after all my grief and denial that my amazing son before the diagnosis was the same amazing son after."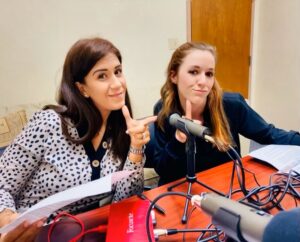 Kaitlyn, who was in her early 20s and was not planning to become pregnant, thought her lifestyle choices before knowing she was expecting might have contributed to her son having schizencephaly (even though there is no known cause). She went into a deep depression and sought outside help, but she gathered the strength to learn everything she could about the rare brain disorder. She is now an advocate, appearing in commercials, magazine articles, and audio programming to ensure more people are aware of the disorder.
Tamra Cajo, says that initially these types of feelings are completely normal, and allowing ourselves to experience them is a way to overcome them. As the episode continues, Merab takes listeners on a journey of different feelings,  as Gigi and Kaitlyn describe their experiences in this emotionally-charged episode of Centering Kids.