Family Members 'Major' in Mental Health at Parent University
By Merab Favorite, Marketing and Development Manager 
SARASOTA, CO.  – The Florida Center for Early Childhood's team of school-based mental health therapists took on new a role this summer – they served as "professors" at Parent Universities across the county.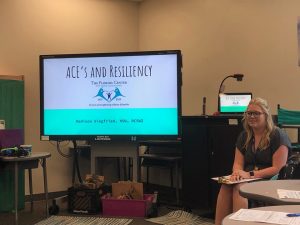 Parents and caregivers with children enrolled in Sarasota County School's Summer Learning Academy were required to attend Parent University as part of a two-generational learning approach that helps prevent students from experiencing summer learning loss.
Summer Learning Academy took place June 3 – July 18 at all Title One Schools in Sarasota County. Incoming kindergartners and students advancing to first through third grades are encouraged to attend the six-week program, which focuses on reading and math in the morning and STEM and enrichment activities in the afternoon.
While the emphasis was on student learning during the daytime, parents attended one evening class each week. The majority of these lessons incorporated some aspect of mental health as a positive approach to building parent-child relationships, which can help students succeed in school. Schools recruited school-based mental health therapists to teach the lessons.
The following topics were covered as part of the Parent University:
Brentwood Elementary School – Adverse Childhood Experiences (ACEs) and its impact on Parenting & Self Care and Emotional Wellness (Lisiane Jimenez, LMHC, & Jenna Froug, LMHC)
Emma B. Booker Elementary – Parental Stress (Lavonna Gregory, LMHC)
Fruitville Elementary School – ACEs and Resiliency (Madison Siegfried, LMHC)
Garden Elementary School – Parenting and Emotional Wellness (Shannon Schafhausen, LMHC)
Glenallen Elementary School – How Trauma Impacts Parenting (Jen Gravesen, LMHC)
Gocio Elementary School – Mind in the Making (Jen Garafola, LMHC)
Lamarque Elementary School – Circle of Security (Monica Mehserle, LMHC)
Wilkinson Elementary School – Instilling Resilience in Children and Parents (Victoria Monaghan, LMHC)
Sarasota parent Emmalee Legler attended Parent University at Fruitville Elementary School, which was conducted by School-Based Mental Health Therapist Madison Siegfried.
Legler, whose daughter will be entering kindergarten next month, said Siegfried provided training that got parents thinking about different ways they can be supportive and build resiliency in their children.
"The presentation that Madison gave was enlightening to the entire group of parents." Legler said. "Knowing that Sarasota County Schools contracts trained professionals to offer school-based support to kids is invaluable."
Florida Center for Early Childhood employs school-based mental health counselors at 15 elementary schools in Sarasota County in partnership with the Sarasota County School District and Community Foundation of Sarasota County. The purpose of the program is to keep high-risk children in school and help them meet their academic milestones through multi-generational therapy for the students and their families.