Unplug and Connect; 4 ways to limit screen time this summer
By Kathleen Powers, School-Based Mental Health Therapist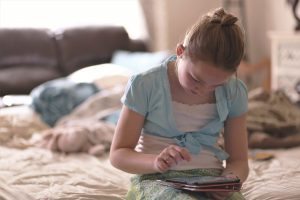 Ahh, the dog days of summer are upon us. If given the choice, many children would opt to fill their time with a screen. Technology has many benefits, but it can also have unintended effects on the quality of our relationships. When we are transfixed by a screen, we can't fully engage with those around us.
Let's look at some ways to unplug and connect.
Do Not Disturb. Start and finish the day unplugged. During these times turn your phone off or tuck it away. Children know when we are distracted, so wait to read that work email or social media post until after you have had some quality one-on-one time together.
Schedule It. Institute a media start time. An example would be to allow digital activities after lunchtime leaving the morning open for creative, physical, and explorative play.
No Screen Zones. Have a family meeting and decide where devices are prohibited. Many families choose to ban screens at the dinner table. Use that time to talk about your day, share ideas, or tell stories.
Teach by Example. Children watch us and learn from our choices. Set your own screen limits and engage in unplugged activities. Your children will learn from your example and learn more about you.
As parents, one of the greatest gifts we can give our kids is the experience of being truly seen and heard. Here's to making the most of your time together!
Kathleen Powers provides school-based mental health services to children and families at Phillipi and Lakeview elementary schools. The program, a partnership between the Florida Center for Early Childhood, the Sarasota County School District and Community Foundation of Sarasota County, is meant to keep high-risk children in school and help them meet their academic milestones through multi-generational therapy for the students and their families.