Grants Benefit Vulnerable Children
Staff Report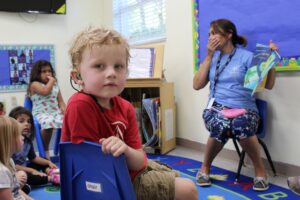 Thanks to the generosity of local foundations, $107,500 was recently awarded to The Florida Center for its programs serving young children and their families!
The Roberta Leventhal Sudakoff Foundation provided funding for outdoor learning and safety equipment that will help approximately 300 children with special needs at The Florida Center's Sarasota and North Port locations.
To protect the health and safety of children and staff at Starfish Academy preschool sites, a grant was awarded from the Edward K. Roberts Emerging Needs Fund of The Community Foundation of Sarasota. This grant will assist with costs of additional sanitizing, cleaning, and supplies necessary to prevent Covid-19.
Students at Alta Vista, Emma E. Booker, and Tuttle elementary schools will have access to mental health therapists as a result of funding from the Leslie and Margaret Weller Fund of the Community Foundation of Sarasota County.
 Enhanced or expanded services will be offered, thanks to the  and an anonymous donor from the Doris M. Carter Family Foundation and the Gulf Coast Community Foundation, each providing general funding to help in these difficult times.
As more children and families struggle with challenges related to the Covid-19 pandemic, the need for early interventions and therapeutic services continues to grow. We could not help these families without our generous community. Every gift makes a difference and we are truly grateful!