Seaside Treasures Luncheon 2023
Inaugural Luncheon Recognized Community Treasures and Raised Funds for Children and Families in Need
More than 170 people attended The Florida Center for Early Childhood's inaugural Seaside Treasures Luncheon on Thursday, March 30, 2023 at Art Ovation Hotel, Autograph Collection. Funds raised during the event will help support the healthy development of young children through the nonprofit's eight programs that serve more than 4,000 families annually.
Attendees browsed pop-up treasure shops, info booths and participated in a chance drawing benefiting families and children in need. Dr. Kristie Skoglund, CEO of The Florida Center, and John Annis, of The Charles and Margery Barancik Foundation, opened the luncheon with commentary about the importance of early childhood development. Jaime Marco, of Evolve Business Consulting, emceed the event and led a special question and answer session with early childhood expert Dr. Neal M. Horen that discussed the impacts of trauma on young children.
A presentation of awards followed, for the following three honorees, recognized as treasures for children and families:
The Sorrento Gang of Esplanade – a group of neighbors who volunteer and support community causes
Kim Williams, M.S., CCC-SLP – a longtime developmental therapies specialist who has impacted the lives of thousands of children and families
Bob and Jen Keller – Advocates for Fetal Alcohol Spectrum Disorders (FASD) awareness and support
"We are thrilled with the success of our inaugural luncheon," said Skoglund. "Recognizing our staff, supporters, and clients has always been a priority for our agency, so this was a wonderful opportunity to share their impactful stories with the community. We can't wait to do it again next year!"
During the presentation, we shared a video of our Starfish Academy students and one of the Kellers sharing their story.
Thank you to our sponsors: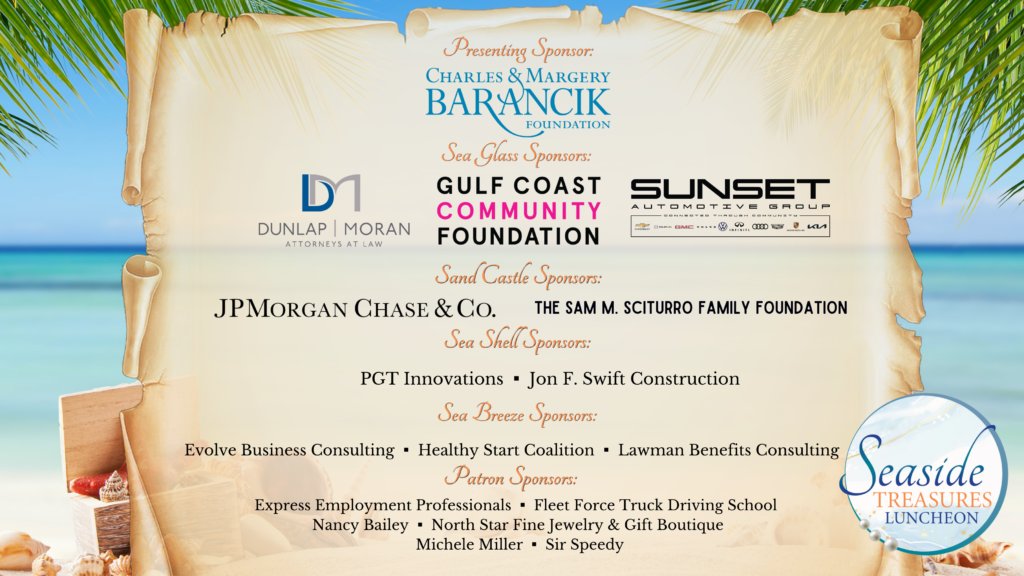 Below is a gallery of some of the highlights from the Seaside Treasures Luncheon.